Fables from the Threshold
Project Type
Illuminating the Margins of a Digital Future
In 2016, S1T2 launched our inaugural exhibition Fables From the Threshold (FABLES), a highly participatory collection of interactive experiences that explored the technical achievements of up-and-coming Australian artists shaping the digital landscape. Through this we gave the local community and general public a chance to experience first-hand, the means in which future technologies will change the way we interact with our world.
During its weeklong run at The Mechanic, FABLES gave audiences an opportunity to explore the fear and hope of a future dominated by technology through a range of fun and immersive experiences, while challenging artists to push and search for new ways of understanding through interactive technologies. With a clear brief specifying the importance of interactivity and discovery, FABLES saw artists produce curiosity-driven works of passionate intensity exploring how emerging technologies are set to revolutionise the way we interact with the world around us.
Being quite a unique exhibition, FABLES garnered significant media and industry attention in the build up to its launch, most notably from news.com.au. The response from general public saw an opening night of 800+ visitors queueing for lengthy periods to experience and enjoy many of the artworks.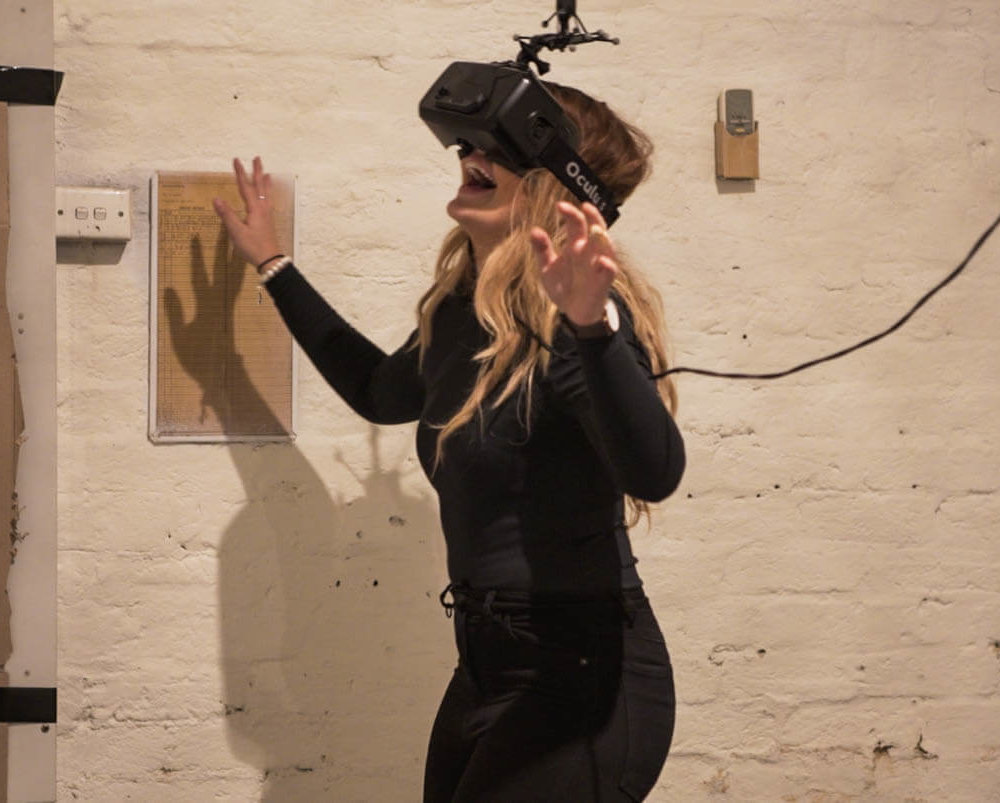 The Artists
FABLES owes its success to a number of contributing artists curated by S1T2 including; Eve Burchfield and Yuchao Wu presenting Delve – an interactive projection using Kinect technology to reveal new perspectives through flora and fauna, Lukasz Karluk combining his fascination with contemporary Indigenous art and experimental mathematics to create the video monitor work Streams, Laszlo Kiss' Lips used foamcore sculpture projection to explore how the spoken word is a fundamental and powerful tool for making change, Richard Wong who created Perspectives, a mixed media sculpture that invited audiences into an altered visual reality, and Anna Stevenson and Adam Smith inviting audiences on an adventure into the unknown and undiscovered future in their installation Legacy.
Furthermore, Ben X Tan, James Frew, and Sean Gardner created an aesthetic equivalent to the feelings that love inspires in Gold Rush. Trent Brooks' Arcs was a video monitor installation using a computer processor and wearable headset to generate artwork controlled by brainwaves. Liam Stephens and Jack Condon created Anti-Game, a virtual reality installation that experiments with and redefines video games. Nicky Tunpitcha presented Dollhouse, an engaging multi-sensory experience through virtual reality in an attempt to challenge how we view the world. Alia Madkhul and William Stewart used an interactive LED panel and video monitor to explore how every brain is both identical and unique, and Renzo Larriviere and Simone Chua present Kaleidoscope Chandelier, an installation that changed as people interact with it.
Experimenting at the Threshold of Technology
In one artwork, Anti-Game, artists collaborated with S1T2 to adopt an integrated approach to development. The game begins by placing players in a simple virtual reality environment. On the surface, the game appears to be a straightforward maze with a predictable outcome. However, as the game progresses, audiences are challenged to reconsider their initial preconceptions. Ultimately, players are forced to question the role of their interaction, and its potential consequences outside the digital environment.
This methodology saw the artists combine an OptiTrack motion capture system, Unreal Engine and an Oculus Rift to track player movement and implement real-time data throughout a virtual reality experience. First, infrared markers were placed strategically on the Oculus headset feeding data to the OptiTrack system. Then, our proprietary plugin was used to deploy the OptiTrack data and reinterpret it in Unreal Engine. Using the Optitrack system also allowed S1T2 to develop a zero latency solution over a large surface area.  By mapping the never-ending virtual reality maze to the real world, the artists and S1T2 created a convincing environment for the player. Importantly, this integration system could track and integrate anything into the virtual reality experience.
Overall, Anti-Game presented a parodied analysis of the relationships between audience and technology, audience and developer, and developer and technology. In its very design, the game explores how contemporary technologies like virtual reality are changing how we create and consume video games.